18 Jan 2019
Kingston, November 28, 2018 (JIS):
The Ministry of Culture, Gender, Entertainment and Sport has committed $1.25 million to Kingston Creative – an organisation that plans to establish an art district in downtown Kingston.
State Minister, Hon. Alando Terrelonge made the announcement at the launch of the entity's 'First 50 Impact Investment Campaign' at F&B Downtown, Harbour Street, downtown Kingston on Tuesday (November 27).
The First 50 Impact Investment campaign aims to raise $50 million towards the development of the Caribbean's first-ever dedicated art district and creative hub.
Mr. Terrelonge advised that the first J$250,000 will be provided during the current fiscal year, with the remaining $1 million dollars to come in 2019/20.
Mr. Terrelonge said Kingston Creative is being considered because of its focus on promoting art in the downtown Kingston district, which is consistent with that of the Ministry.
"In 2015, Kingston was designated a City of Music. We now want Kingston to be designated a City of Art and Culture because we do have the talent and the expertise," he said.
Mr. Terrelonge contended that the Ministry's and, by extension, the Government's commitment to the project "will bring life to downtown Kingston once more".
He anticipates that the initiative will resonate among other stakeholders, particularly those in the private sector, whose support is also being lobbied.
This is already manifesting, as in addition to the Kingston and St. Andrew Municipal Corporation, commitments and pledges have been made by representatives of Red Stripe, the Jamaica Observer, CB Facey Foundation, F&B Downtown and PaperboyJA during the launch
"This is the message of partnership. It exemplifies what, as Jamaicans, we can all achieve when it comes down to true partnership," he said.
Co-Founder, Kingston Creative, Andrea Dempster-Chung, said she was pleased with the support being offered by various stakeholders.
"With these first investments, we are one step closer to seeing the vision realised. We have seen tremendous support for this initiative over the past year, and we look forward to more entities coming on board in 2019," she said.
Ms. Dempster-Chung emphasised that the engagement is "more than money", adding that "it is a legacy conversation".
"We have a real opportunity here to achieve social transformation and create a new reality for our talented young creatives. Together, we can leave downtown a safer more beautiful and vibrant place than we found it," she stated.
Kingston's Mayor, Senator Councillor Delroy Williams, said the level of interest and input that Kingston Creative's endeavour will generate in downtown Kingston is expected to contribute significantly to the area's redevelopment.
"In terms of the art district, I know Andrea and her group have been moving towards this international city of art, and to become a member of the global network of art districts… that would be a really great achievement. The Kingston and St. Andrew Municipal Corporation is supportive, and we believe in them and that they will do it," he added.
Kingston Creative hosts a free monthly event that brings together artists, artisans and designers of all backgrounds every fourth Sunday, which is intended to lay the groundwork for the downtown Kingston art district and creative entrepreneurs hub.
END
18 Jan 2019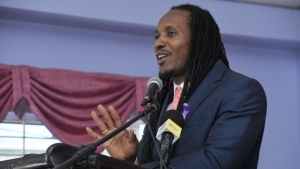 KINGSTON, November 26, 2018 (JIS):
State Minister in the Ministry of Culture, Gender, Entertainment and Sport, Hon. Alando Terrelonge is appealing for Jamaicans to join the Government in ending violence against women and girls.
He noted that the Administration is working to address the scourge through legislative, policy and programmatic actions that protect victims of violence, punish perpetrators and ensure that the victims get redress.
He urged citizens "not to turn a blind eye" to such acts, noting that reports of "brutal attacks against women over the last year should concern each of us to do something about it…I am extending an invitation to you to join us."
Mr. Terrelonge was representing Portfolio Minister, Hon. Olivia Grange, at a service, to mark International Day for the Elimination of Violence Against Women (IDEVAW), held at the Pentecostal Sanctuary, Upper Waterloo Road, St. Andrew, on Sunday (November 25).
Citing findings from the 2016 Women's Health Survey, done by United Nations (UN) Women, he said that one in every four women in Jamaica has been either slapped, beaten with fists, pushed, kicked, attacked or threatened with a weapon by her male partner.
He said the survey also revealed that a quarter of women in Jamaica have been sexually abused by men, who are not their intimate partner and that the majority of the abusers were friends or acquaintances. 
"One out of every five women reported being sexually abused before reaching 18 years old and the person who did it was a family member or friend," he pointed out.
State Minister Terrelonge said it is not the intent of God that "women should be inferior to men and that women should be subjugated to men and that men must be at the right and liberty to punish their women".
"Men and women must be treated as equals and as partners within the home," he argued.
Describing perpetrators of violence against women as "cowards," he said that abuse is not an expression of love.
"Violence against women does not show that you are a man, in fact, it proves that you are not a man," Mr. Terrelonge added.
In his message, Pastor of the Pentecostal Sanctuary, Bishop Robert Ellis, said that Jamaicans need to get back to "good wholesome family life if the country is going to get back to good wholesome values."
He noted that the family is "critically important" for social change to take place.
"It is the smallest unit of the society and when that unit of the family becomes disintegrated and disruptive, you're going to have chaos in the society," he said, adding that the family influences the lives of individuals and "is the wheel that forms our character."
The observance of IDEVAW raises public awareness of violence against women. It has been observed on November 25 each year since 2000.
END