16 Jul 2019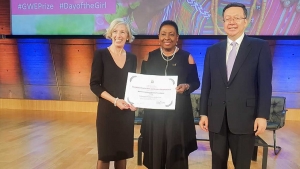 Paris, 11 October 2018 – The Minister of Culture, Gender, Entertainment and Sport, the Honourable Olivia Grange, has accepted the prestigious UNESCO Prize for Girls' and Women's Education which has been awarded to the Women's Centre of Jamaica Foundation.
The prize is given annually to individuals, institutions non-governmental organisations and other entities engaged in activities in girls' and women's education and is sponsored by the People's Republic of China.
The Women's Centre of Jamaica Foundation was recognised for helping adolescent mothers to continue their education and awarded US$50,000 to help further its work.  This year's other awardee, the Misr El-Kheir Foundation, supports girls' education in some of the poorest villages of Egypt.
Accepting the prize at the UNESCO headquarters in Paris, France today — on the occasion of the International Day of the Girl Child — Minister Grange said the award was in recognition of "the value of the Foundation's work in re-writing the script of the lives of adolescent mothers."
The Women's Centre of Jamaica Foundation — an agency of the Ministry of Culture, Gender, Entertainment and Sport — was established 40 years ago to devise programmes and activities to address the needs of adolescent mothers, including equipping them to take care of their children and helping them to complete their education at its centres across the country and through re-integration into the formal school system, thereby increasing their job prospects.
Minister Grange noted that prior to the establishment of the Women's Centre of Jamaica Foundation, pregnancy was like a death sentence for the adolescent girl: her health was endangered; her education would stop; her hopes and dreams would vanish; and she faced a life of poverty and dependence.
During the last 40 years, the Women's Centre has served 46-thousand adolescent mothers — most of whom never had a second child during their adolescent years.
This year's International Day of the Girl Child was observed under the theme "With Her: A Skilled GirlForce" which called attention to the need to develop the skills of girls to enter the workforce on equal terms.
Minister Grange called on everyone to "commit to doing all in our power to create a world that is fit for a girl. A world that values her.  A world that protects her.  A world that shows her possibilities and helps her to be all that she can and wants to be."
-END-
16 Jul 2019
Sport Minister, Honourable Olivia 'Babsy' Grange, says the Government of Jamaica is committed to move sport front and centre of economic growth and infrastructure development.